Nosy Crow, the ONLY book publisher ever to win TWO Queen's Awards for Enterprise for International Trade
prnewswire.co.uk – Thursday April 29, 2021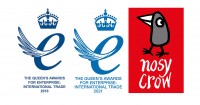 Nosy Crow, the UK's fastest-growing independent children's publisher, today celebrates a second consecutive Queen's Award for Enterprise for International Trade, the most prestigious business award in the UK.­­­
It is the only book publisher ever to win a second award and the only publisher to have won one in the last 10 years.
Nosy Crow is one of 205 organisations nationally to be recognised with a prestigious Queen's Award this year and, within that, one of 122 recognised for its excellence in International Trade.
Employing 56 people, Nosy Crow is a multi-award-winning publisher of child-focused, parent-friendly children's books and eBooks for ages 0–12. It began publishing in 2011 and celebrates its 10th anniversary this year.
To read the full article on prnewswire.co.uk, click here
Recent News